Scritto da speakitalianmagically.com il 10 dicembre 2011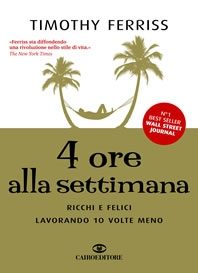 Read this article through for the answer…Anyway, who's Tim Ferris?
He's the author of the book on the picture on the left. It's also available in Italian here.
I was reading an interesting article on his Blog where he said that the "the ideal system — and progression — [ to learn a language] is based on three elements in this order…
1. Effectiveness (Priority)
2. Adherence (Interest)
3. Efficiency (Process)"
As far as effectiveness is concerned he actually meant that "you need to select the right materials to learn a language. Practical fluency is impossible without the proper tools (material). Teachers are subordinate to materials, just as cooks are subordinate to recipes."
That sentence makes me think. What if I could forget about levels  and teach to the genius which is inside everyone? So,  a seed has been planted into me:
What about creating a piece of  material that can let people learn Italian and useful skills at the same time?
Ferris writes then about adherence:
"Review, and multiple exposures to the same material, will always present an element of monotony,which must be countered by an interest in the material. [...] If you have no interest in politics, will you adhere to a language course that focuses on this material? [...] Oftentimes, it is best to select content that matches your interests in your native language. [...] Use the target language as a vehicle for learning more about a subject, skill, or cultural area of interest.Do not use material incongruent with your interests as a vehicle for learning a language – it will not work."
By reading this text I realized that this is what I usually do when I want to learn a language. I select a piece of material I am really interested in and the I'll do my own best to understand it and master, so that I can learn something new or a new skill.
After all Stephen Krashen in his book The power of Reading affirms that you learn much faster and more if you read out of interest. And he tells about a boy who wasn't very good in writing and after reading a lot of novels he astounded his teacher, who actually couldn't believe he  had written that piece of essay by himself.
Besides, there's a teaching method, called CLIL (Content and Language Integrated Learning), that teaches skills and school subjects through the second language. This way conveying both content and language. And this is  what I usually do with a dear student of mine every week. We talk and read about what happens in the world. This is a subject very interesting to him, and to me as well.
But, then I thought:
What kind of content or skill can I convey that is interesting, compelling and useful as well?
And the answer is what you could find in the new book of mine that is about to be published: skills that help you refresh Italian and master any other skill that you need to learn faster in your everyday life.
If this seems to far fetched wait just another little while and judge for yourself.
Another question came into my mind: I know that multiple exposure to the same material in different times is the best way to master it (NEUROSCIENCE says so),  and how can I still keep interesting? A reviewer of my Speak Italian Magically book had the answer for this:
"If you first listen and read along to the English, then just listen, then repeat the experience with the all-Italian version, you'll have lived out the same little scenario four times, each time getting progressively further into experiencing Italian as a spoken language that you understand without getting bored of it before moving on to the next session".
After reading that, I thought: Mamma mia!:-)  I already have a method that helps people have multiple exposure to the same material and it is in the"how to use this course" section of Speak Italian Magically. In fact, there I tell about seven different ways to be exposed to the same material. And of course you can still be creative and come up with new ones. (And lately I have been singing those texts with my Students, having a lot of fun, even if we are not good singers at all;-)
Tim Ferris goes on talking about efficiency:
"It matters little if you have the best material and adherence if time-to-fluency is 20 years. The ROI [Return on investment, Nota di Antonio]  won't compel you. Ask yourself: Will this method allow me to reach accurate recognition and recall with the fewest number of exposures, within the shortest period of time?"
I had the answer  to this too because I know for sure that if you are in a state of relaxed alertness you learn much faster. The idea of creating a new book was all there:
A course teaching skills that also help learn skills, (and this is very interesting and compelling for me and for many people I know. What about you?) and be exposed to a fair amount of Italian language, that can also be learned much faster than with traditional approaches.
To know more about this new project of mine, stay tuned (sign up to the newsletter if you haven't yet) .
I just want to tell you that it will be the ideal sequel to Speak Italian Magically and will be suitable especially for people who already know a bit of Italian. Even though absolute beginners will be able to understand it too;-). How is that possible?
I always want to create material that can give something new to me and people that already know my work, so it will be something different.
In the end, I just want to thank Tim Ferris very much . If it wasn't for him this book might have not been written. I haven't read your books yet, but I am sure I'll do!
And the answer to the beginning question…"Can Tim Ferris help you speak Italian faster?"…For me is YES…He has wonderful good points on that article. What do you think about?
Pubblicato in The course | Nessun commento »